Butler Tech moves forward with bioscience facility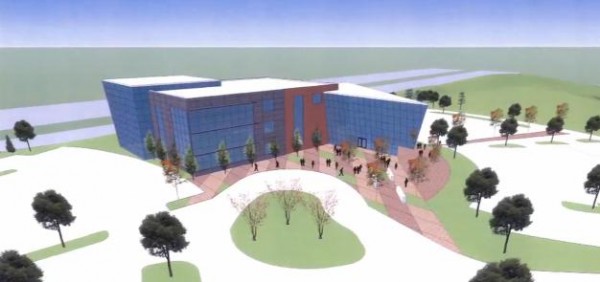 WEST CHESTER TWP. —
High school students in Butler County will have the opportunity to work toward certification in health and bioscience fields when the latest development from Butler Tech is completed.
Plans for a bioscience education facility are being developed for 25 acres of land overlooking Interstate 75 and Cincinnati Dayton Road in West Chester Twp., said Bill Miller, superintendent of Butler Tech. The land was first purchased in 2008 for around $1.7 million.
Butler Tech is working with architects from McGill Smith Punshon on long-range plans that detail a 150,000-square-foot campus with five interconnected buildings that would offer high school and adult students programs in health and bioscience fields.
"From a fiscal standpoint, we can afford to build one piece," Miller said, for about $13 million.
Miller said a groundbreaking will happen in January or February on a 50,000-square-foot building. He said 30,000 square feet have been committed to bioscience and health programs for students in grades 11-12, including exercise science, dental assisting, State Tested Nursing Aide (STNA) and medical terminology.
When the new facility opens in August 2015, Miller said he anticipates an initial enrollment of 250 to 300 students and 150 adults.
Depending on funding opportunities, Miller said the additional 20,000 square feet of building space will likely house adult education programs and new offices of the West Chester and Liberty Chamber Alliance.
Joe Hinson, president and CEO of the West Chester and Liberty Chamber Alliance, said he is excited about the prospect of moving the chamber offices into the new facility because it will provide the Chamber Alliance with a presence on I-75 and a continued partnership 10 years in the making with Butler Tech.
"Butler Tech's new training facility has an excellent chance to become a game changer for our region and provide West Chester with a global address in the world of bioscience," Hinson said. "Today the average income in the bioscience sector for Ohio is over $75,000, which is very much in line with the vision of creating high-paying jobs along the I-75 Growth Corridor."
The bioscience facility would be Butler Tech's first in West Chester Twp., and sixth in Butler County. The joint vocational school district serves 27,000 adults and high school students each year through its original D. Russel Lee Career-Technology Center, a school of arts, public safety education complex and natural science center.
The board of education at Butler Tech will hold a special meeting at 5 p.m. Oct. 29 to discuss financials and vote on two companies for a construction manager.
Miller said he is working with developers from Schumacher Dugan Construction on a master plan for the area that includes an additional 135 acres of adjacent land to develop a 160-acre "campus-like setting" with a community college and university partnership.
"This exit would become an educational exit off of (Interstate) 75," Miller said. "We're in the middle of seven hospitals and the biomedical industry."
Miller said he would like to see a medical office open on the campus — be it a physician's practice, home for the elderly or a satellite office of West Chester Hospital — where students could go for real-world training.
"They can step right into the health field and get experience to become a high-value member of the workforce," Miller said.
Miller said once the new bioscience facility opens, the current health programs offered on the D. Russel Lee campus would move into the new facility. He said this will create additional space for future programming needs.
"Our priorities will be around job trends," Miller said.
The bioscience facility will also become a training ground for local employers in the region to send employees for further certification or career development needs, said Amy Waldbillig, executive director of workforce development.
"We can contribute that link between education and business," Waldbillig said. "Our curriculum development comes from businesses and that specific need."
Waldbillig said adult education programs that will be inside the bioscience facility include practical nursing, STNA, pharmacy technician and medical assisting. She said similar programs will continue to be offered at the Hamilton campus on Ohio 4.
"Hamilton and Middletown and the I-75 growth corridor are two different markets," Waldbillig said. "We want to make sure we're serving the region."
http://www.journal-news.com/news/news/butler-tech-moves-forward-with-bioscience-facility/nbRsJ/