Bioscience high school debuts in West Chester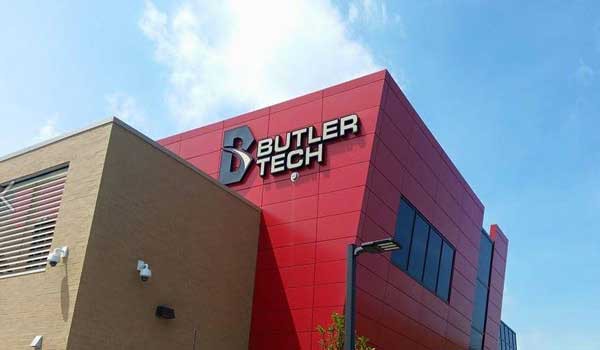 WEST CHESTER TWP. —
Hundreds of local students will gain new skills in bioscience and health care fields with Tuesday's opening of the new Butler Tech Bioscience Center.
The technology and career development school is developing a 26-acre bioscience campus near Cincinnati Dayton Road and Interstate 75 in West Chester. The $16 million bioscience high school encompasses the first phase of development.
Principal Abbie Cook said there are 275 students enrolled for the 2015-16 school year, juniors and seniors only. The bioscience center offers four programs — Butler Tech's existing health technology and dental assisting programs and new offerings of exercise science and Project Lead the Way biomedical science.
Students at the bioscience school have the opportunity to test for and leave high school with many certifications and licenses, including State Tested Nursing Aide, personal training license, dental radiography license, dental assisting license or a pharmacy tech license, Cook said.
Occupations and industries related to health care are projected to grow 10.8 percent — or by 15.6 million people — between 2012 and 2022, according to the U.S. Bureau of Labor Statistics.
The bioscience field is the cross-section of business and health care, and includes companies such as medical device manufacturers, pharmaceutical companies, health technology and agricultural technology, said John Lewis, president and chief executive officer of trade group BioOhio.
Bioscience companies employed nearly 15,000 workers in Ohio last year, paying on average $69,349 a year, according to University of Cincinnati Economics Center research.
The Journal-News previously reported that Butler Tech is also trying to lure a private business tenant to the campus. At that time, Bill Miller, Butler Tech superintendent/chief executive officer, told this newspaper if a deal is closed, construction could start still this year on a second office building to house the bioscience-related company.
"They picked this location (for the campus) because it's in the center of five hospitals and in the center of the bioscience community in this area," Miller said.
The health care and bioscience sectors in Butler and Warren counties are booming.
Among recent announcements, AssurexHealth, which provides genetic tests and analysis to help guide doctors' treatment decisions, will build its new $15 million headquarters in Mason where it will anchor a new bioscience business park.
Also relocating to Mason from West Chester, AtriCure, a medical device maker, has outgrown its current headquarters.
In the health care industry, Cincinnati Children's Hospital Medical Center just finished a $50 million expansion to add a fourth patient floor and support services, and is continuing construction on a $120 million proton therapy center for cancer treatment.
The Christ Hospital Health Network announced last month its plan for a 125,000-square-foot medical center in Liberty Twp. that will include a freestanding emergency department and surgical, physical therapy, cardiology, radiology, urology and other services.
Atrium Medical Center in Middletown this week is celebrating the opening of its new Wound Care Center and Hyperbaric Services.
Cook said there are 19 staff members, including 15 teachers. The school will max out next fall with 300 high school students. The $16 million investment included the building construction, equipment and road improvements to create Capstone Boulevard.
Butler Tech spent $125,000 to purchase the human simulator SimMan 3G for hands-on training and assessment of students. The simulator speaks, convulses, has basic bodily functions such as sweating and bleeding, and has pupils that react to light and dark, said Laura Eby, medical language teacher.
"It's incredible a high school has this health technology for an intro to patient care and assessment skills," said Sally Muenchen, RN, a health instructor at the school.
Eby said an instructor can program the simulator for any number of scenarios including a heart attack. The students then have to use their knowledge to diagnosis and treat the patient.
The simulator — which has a pulse and varying blood pressure levels — can handle any number of procedures, such as practice starting an IV line, intubation, and getting a chest tube, Eby said. The school hopes to add a second simulator in a year or two.
"It's pretty state of the art," said Abbi Baird, a senior student in the health technology program. "The coolest part is the sim man. I'm ready to practice my skills on it."
The new school also has two laboratories for health technology students — a patient care and diagnosis room with eight patient beds and dummies for practice, and a medical assisting room that mimics a doctor's office. The program prepares students to enter many occupations, from medical office management to hands-on medical care.
"It's a blended-learning model," Cook said, that's very student-driven.
The high school includes four "huddle rooms" for student collaboration or space for teachers — the walls are even giant white boards. There's also a learning commons area on the first floor for meals, independent study or small groups. On a clear day, you can see the Cincinnati skyline from the second floor.
The students wear scrub suits and attend classes from 8 a.m. to 1:35 p.m. There are no set lunch times, instead students pick when to eat and choose from a variety of freshly-packaged meals or a la carte options from three vending machines stocked daily.
"We're trying to make it feel like a college," Cook said.
Classes started Tuesday for juniors and Wednesday for seniors. Students said they like the change in a preordained lunch schedule because it gives them more independence and decision making.
Jesse Dearth, a senior health tech student from Madison High School, said because it's a new building the spaces were able to be designed just for the bioscience programs.
"The classrooms are more integrated with technology," Dearth said. "It's nice having something built for technology."
Audrey Pickett, a senior from Middletown High School, described the building as "futuristic."
"It jumps out at you," Pickett said. "The future is coming and we're going to be part of it."
Staff writer Chelsey Levingston contributed to this report.
---
BUTLER TECH BIOSCIENCE CENTER
WHAT: A bioscience high school for 300 juniors and seniors
PROGRAMS: Health technology, dental assisting, biomedical science, exercise science
COST: $16 million investment by Butler Tech
COMMUNITY OPEN HOUSE: 10 a.m. to noon Saturday, Sept. 19, at 8450 Capstone Blvd., West Chester Twp.
http://m.journal-news.com/news/news/bioscience-high-school-debuts-in-west-chester/nnHfd/