Big crowd tours areas biggest, newest youth learning center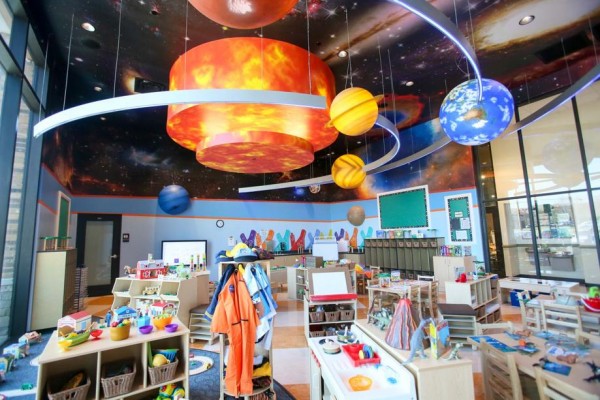 More than a 1,000 visitors lined up to tour the region's newest, largest and most extravagant child learning center this weekend.
"It's been amazing," said Daniel Petersen, vice president of development for the national Children's Learning Adventure Childcare Centers. "We're very excited by the crowd and we tend to have pretty big crowds at our grand openings but this has exceeded my expectations."
Some families, many of them touting along their young children, lined up around the front of the newly opened school campus on Saturday morning to be among the first to see the center's offerings.
Located at 8110 Market Place Drive just off Ohio 747 north of the Smith Road intersection, the 33,000-square-foot mega child care and educational youth center boasts brightly lit, vibrantly colored interiors and interactive environments.
Exploration is encouraged via not only books, toys and puzzles, but also tablets and 55-inch touchscreen smartboards with more than 1,100 teacher-driven activities for one-on-one and small-group learning.
Enrollment, which starts at six months old, stretches to 12 years old and programs include infant care, toddler care, preschool/pre-K, kindergarten, after school and summer camp.
The center is the first in Ohio and another facility is scheduled to open in Mason and in Westerville, Ohio near Columbus later this year.
West Chester resident Anthony Ratica and his family were the first in line Saturday and joined other young parents in coming away from the learning center impressed.
"It's got a lot of wow factor and it definitely gets your attention from the road and it has a great curriculum as well, which is really most important," said "Nothing really compares to it in the area."
Bob Fletcher's family from West Chester waited more than an hour to get a tour of the center but he said it was worth it.
"This place is amazing. It's like Kings Island for the kids every day," said Fletcher.
Petersen said the license capacity for the building is 500 children but he said the company's desire for a low teacher to student ratio will mean fewer than 500 students will be in the center at any one time.
"We tend to double up teachers in classrooms to make sure the children get personalized attention," he said.
http://www.journal-news.com/news/local-education/big-crowd-tours-area-biggest-newest-youth-learning-center/mAUEIWJE7JUuZT0ac20v0N/?ecmp=newspaper_email