Behavioral hospital to create more than 100 jobs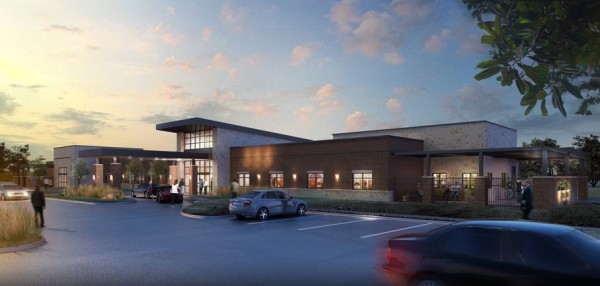 By Eric Schwartzberg
WEST CHESTER TWP.
A 48-bed behavioral hospital will open in West Chester Twp. next year and bring more than 100 jobs to the area.
Louisville-based health care company Springstone Inc. is building Beckett Springs, a $10 million, 37,000-square-foot facility at at 8614 Shepherd Farm Drive, according to Dean Saling, vice president of operations development.
The one-story inpatient psychiatric facility is expected to open by summer 2013 on 9.7 acres that it purchased from West Chester-based Schumacher Dugan Construction.
The inpatient psychiatric facility is projected to create 75 jobs when it opens and up to 125 when the site is fully operational by the end of 2014, Saling said.
The majority of jobs will be nursing positions, he said.
Springstone hospitals treat adults with mental health and addiction disorders, as well as mental health issues arising from geriatric conditions. The hospitals also provide a continuum of inpatient treatment, partial hospitalization, individual and group intensive outpatient programs and after care programs.
Choosing southwest Ohio came as a result of "a pretty thorough demographic study" of which areas in the nation need mental health and addiction services, Saling said.
Part of the criteria for the study included density of the population and the current amount of beds per thousand residents, he said.
"The national average on psychiatric addiction beds per thousand is about 14 and in the Cincinnati region … it's anywhere between 9 and 11 beds per thousands, so that attracted us to the area," Saling said.
Factors that led Springstone to choose West Chester Twp. included available land and a location that fit Springstone's financial model and budget along with attempting to remain near the Cincinnati area.
"We are aware that we're close to one of our competitors, the Lindner Center of HOPE, who has an excellent reputation, and ideally we would like to have spread out our services a little bit in terms of distance with them," he said.
Springstone operates mental health hospitals in Lafayette and Newburgh, Ind., Carrollton, Texas, and Dublin. The Indiana and Texas facilities have between 45 and 48 beds while its Dublin location, which opened late last months, has 72 beds.
Springstone plans to open two additional hospitals in 2012 in the western part of the country and four to five new hospitals in 2014, Saling said.
The new facility enhances West Chester Twp.'s "diverse economy and long-term sustainability," according to Judi Boyko, the township's administrator.
"Springstone joins an expanding medical services community in West Chester and provides significant resources for psychiatric and wellness services in our region," Boyko said.