Bass Pro Shops moving to West Chester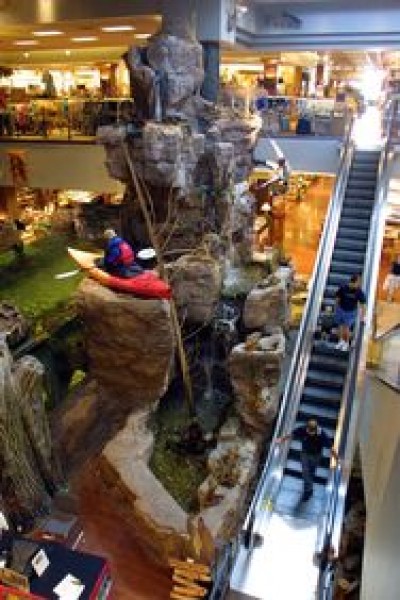 WEST CHESTER TWP. —
The national hunting and fishing retailer Bass Pro Shops has announced plans for a 150,000-square-foot location in West Chester Twp.
The company revealed plans Friday for a location near the intersection of Interstate 75 and Union Center Boulevard. Construction is set to begin next year, with an opening in 2015, according to a company release.
The original Cincinnati Bass Pro Shops Outdoor World, which opened in November 2000, is located about seven miles away at Forest Fair Village, formerly the Cincinnati Mall. That location will be closed once the new location is built and ready to open, said spokeswoman Katie Mitchell.
Mitchell said the new store will be 20,000 square feet larger than the existing Cincinnati area store. The new location will feature an Uncle Buck's Fishbowl and Grill, a nautical-themed venue for entertainment and dining that includes 12 lanes of bowling.
"Those associates won't be losing their jobs and would be moved over to West Chester," Mitchell said. "We will likely hire more associates for the restaurant and it's a larger location," but the amount of new jobs isn't known yet.
West Chester Twp. Administrator Judi Boyko said no applications for permits or any other formal requests for this development have been submitted yet.
"Bass Pro Shops' announcement is great news for the community," Boyko said. "Bass Pro Shops enhances the existing environment of destination retailers such as IKEA and AMC Theatres and builds upon the upscale amenities offered in West Chester's downtown."
Beyond fishing and hunting gear, Bass Pro Shops offers equipment and clothing for hiking, backpacking, wildlife viewing, camping and outdoor cooking. A gift and nature center features a variety of outdoor-related items from lamps and dishes to bird feeders and furniture.
Boat showrooms offer brands of Tracker, Nitro, SunTracker, Tahoe, Grizzly and Mako boats built by Tracker Marine Group, the world's largest manufacturer of fishing boats.
"Our new store will enable us to better serve the region's many sportsmen and women," said Johnny Morris, founder of Bass Pro Shops. "Our current location has served us very well for the last 14 years, but we now look forward to building a newer, bigger store to better serve the region's outdoor enthusiasts."
More than 116 million people will visit the 60 locations of Bass Bro Shops and 19 Tracker Marine Centers this year, with the average customer traveling more than 50 miles and staying nearly three hours, according to company officials.
The company's only other Ohio store is in Rossford, near Toledo.
Bass Pro Shops was named by Advertising Age magazine as one of the Top 10 Hottest Brands in America.
http://www.journal-news.com/news/news/bass-pro-shops-announces-west-chester-store/nbRm7/