Areas newest hotel developer has track record of success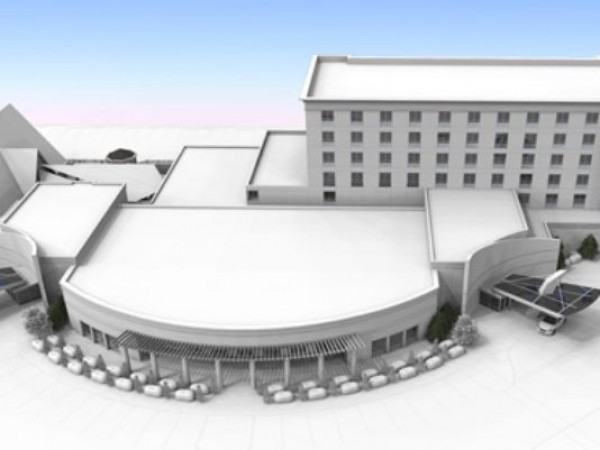 WEST CHESTER TWP. —
When Centre Park of West Chester opens in late 2015 at 5800 Muhlhauser Road, it will be one of five new hotels in West Chester and Liberty townships and join nine other lodging options off the Interstate 75 corridor.
The $25 million project will feature not only a 130-room Holiday Inn hotel, but a 37,000-square-foot, 650-seat event center for meetings and banquets, a chapel and the only Johnny's Italian Steakhouse in Ohio.
"This project is probably the only quadruple threat in the region," said Mark Davis, CEO of HiFive Development Services, who is adding the project to a portfolio that includes 15 hotels in southwest Ohio either newly constructed or renovated. "You can to go to a hotel pretty much anywhere in the region, you can find a nice restaurant and wedding venue like a church .. and you can also find conference facilities, but there's no place (around here) where you get all four in one."
That, Davis said, means a young couple looking to start their lives together can do so not only with luxury, but with ease.
"They can get married in an old-world chapel, have a reception in the state of the art conference facility, they can stay in the hotel and before they leave on their honeymoon, they can have a great dinner at Johnny's Italian Steakhouse," Davis said. "It the only place in the region where you get something like that."
In addition, the hotel offers more for business users than other hotels and is the only full-service hotel in the area other than Cincinnati Marriott North, which has been open for about two decades.
Centre Park of West Chester will be the first new Holiday Inn in the Cincinnati area in about 20 years, according to Dan Henretty, regional director of franchise development at IHG.
But one of the men behind the new facility, Har Bhatnagar, president and CEO of Middletown Hotel Management Company, is no stranger to the chain. Bhatnagar's Holiday Inn Express Hotel & Suites Dayton South is currently ranked the eighth-best Holiday Inn Express in the system based on guest satisfaction scores out of over 2,500 locations nationwide, Henretty said.
But despite that feather in his cap and numerous other successful projects under his belt, Bhatnagar said he had a difficult time financing the project because lending institutions — banks and insurance companies — didn't "get" the multifaceted nature of the project.
"This was such a unique project that there was no business model to compare it with," Bhatnagar said.
Davis and Bhatnagar, with their 50-plus years of combined experience in development, used third-party feasibility studies and their own intuition to explain how the project was going to be a success, Davis said. They found $18.75 million in financing via Arizona-based Avana Capital, IAB Financial Bank of Fort Wayne, Ind., and Georgia-based Metro City Bank. Local certified development company Access Financial will provide the Small Business Administration debenture funding at completion of construction.
"The complexity of the project is not something all lenders understand easily," Davis said. "Har is an extremely strong investor but not withstanding that, this is a $25 million project. This took a lot of creativity from the lending perspective."
Sanat Patel, managing partner with Avana Capital, said the project is a large one by itself, but financing is a matter of also recognizing the person behind it, which in this case was Bhatnagar and his team.
"You believe in the management, because that's really what ultimately you're lending to," Patel said. "The project is a function of it being built in asset value but the management is really the one that puts the meat together and helps you get repaid on the financing."
It helped, of course, that overall macroeconomics improved. But in the end, much of banking and lending, he said, is a function of one-on-one discussion and knowing who the management is.
"When you see them, and you see their vision and see what they've done and it's proven by the results that they demonstrate, then you get comfortable," Patel said.
http://www.journal-news.com/news/news/areas-newest-hotel-developer-has-track-record-of-s/nhBc6/