Aerospace Businesses Soar in West Chester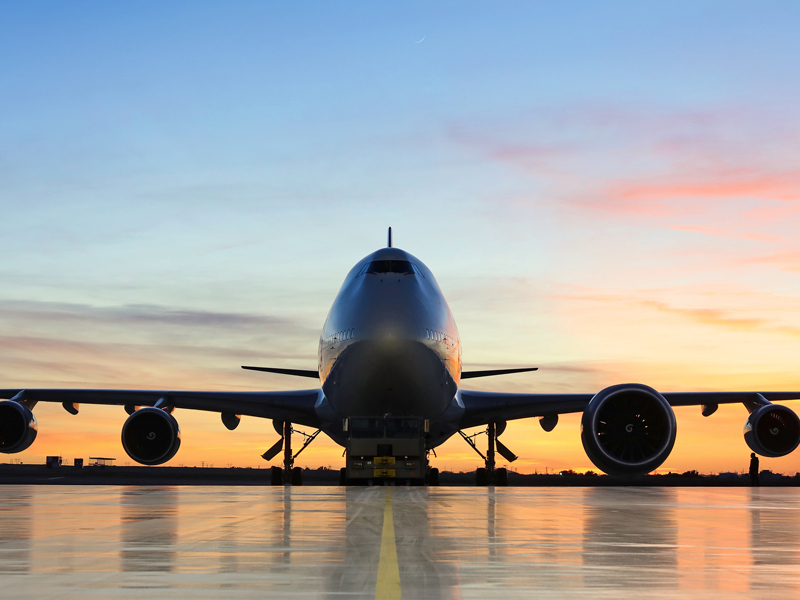 Ohio, known as the home of aviation, is also the number one supplier to Boeing and Airbus. GE Aerospace, a pioneer in the aerospace industry, made southwest Ohio its home 75 years ago and West Chester Township serves as a hub to businesses providing aerospace products and services to the aerospace industry. 
CFM International, a West Chester-based company that is a 50/50 joint venture with GE Aerospace accounts for 70% of the global commercial engine market. CFM International produces the advanced LEAP product line which is the engine of choice to power Airbus and Boeing products.   
In 2022, the conglomerate General Electric made a historic split creating three distinct public companies separating its healthcare and energy businesses, and rebranding its aircraft division to GE Aerospace. The separation will become official in 2024 when GE Aerospace headquarters will be officially located in Cincinnati—making southwest Ohio an even stronger player in the aerospace industry and shoring up GE Aerospace's commitment to the region.    
Southwest Ohio and West Chester Township specifically are where aerospace companies, and their strong network of partners and suppliers, come to invest in the future of aerospace manufacturing whether in fields of advanced 3D printing, aviation engineering, aerospace technologies, un-crewed aerial systems and countless others. 
The presence of a company like GE Aerospace attracts a network of suppliers, businesses and network partners to support their work and acts as a magnet to attract a skilled workforce and talent pipeline of aerospace manufacturing and engineering skilled employees. West Chester's central location between the Cincinnati and Dayton regions offers access to a skilled workforce of 1.89 million within a 30-mile radius. West Chester has more than 2,500 employees working in the aerospace industry alone. 
In addition to GE Aerospace, West Chester has become home to numerous major aerospace companies, including:
Barnes Aerospace West Chester locations are Original Equipment Manufacturer (OEM) and Aftermarket operations. The OEM strategic business unit provides complex fabricated and precision-machined components and assemblies for OEMs of commercial and military turbine engines, nacelles, airframes and also industrial gas turbines. Barnes Aerospace aftermarket strategic business unit provides Maintenance, Repair, and Overhaul (MRO) services and spare parts for many of the world's major turbine engine manufacturers, airline operators and third-party providers.
CFM International is the world's leading supplier of commercial aircraft engines with a product line that sets the industry standard for efficiency, reliability, durability, and optimized cost of ownership. CFM International produces the LEAP family of engines and supports LEAP and CFM56 fleets for operators worldwide. 
CTL Aerospace formulated and provided NASA with the resin system for the heat shield that protected the re-entry vehicles' return to earth. CTL Aerospace offers commercial and military applications of advance composite components. CTL is a supplier to every major gas turbine engine manufacturer and aircraft OEM and continues to innovate in the use of advanced composite systems for customers. 
Eagle Composites provides high performance polymer matrix composites (PMC's) and advanced manufacturing solutions. The company's manufacturing capability and capacity is focused on production of PMC's components and assemblies for the commercial aerospace, business jet and defense industries. Eagle Composites' expertise in design support, tooling, materials, processing and quality systems are brought together in its project management process (PMP) which ensures successful new product introduction (NPI) and production ramp up. 
Flighttime Enterprises has more than 16 years of experience in the supply of aircraft equipment and is a partner of more than 100 operators and customers worldwide. Flighttime Enterprises' primary activities and focus is the implementation of comprehensive programs to supply aircraft engines, APUs, landing gear, wheels and brakes, spare parts and organization of service maintenance and repairs of components and assemblies for aircraft operators. 
GE Additive is a world leader in metal additive design and manufacturing. Through its integrated offering of additive experts, advanced machines, and quality powders, GE Additive empowers its customers to build innovative new products that solve manufacturing challenges, improve business outcomes and help change the world for the better. 
GE Aerospace is a world-leading provider of commercial and military jet engines, components, avionics and electrical power systems. GE Aerospace employs 9,000 in the Cincinnati region and is also the third largest manufacturer in the area. 
Northrop Grumman is a leading global aerospace and defense technology company. Northrop Grumman delivers products and services to customer in 25 nations. Northrop Grumman continues to lead the charge in stealth with the world's first sixth-generation aircraft, the B-21 Raider. Decades of government and industry collaboration and investment have pushed the boundaries of what is possible, allowing stealth technology to continuously evolve with national security needs. 
According to the Aerospace Industries Association (AIA), the global aerospace parts manufacturing market size is projected to reach $1.36 trillion by 2030. West Chester aerospace businesses are clearly on target to play a significant role in the national and global economy of this huge and diverse market with the products they manufacture and services they offer spread across the commercial, military and industrial sectors.