Addiction services growing in county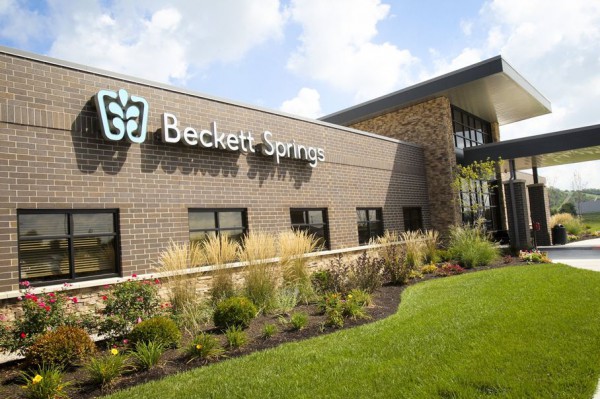 Addiction services in Butler County are expanding again as two area companies move to add a combined 50 beds.
Beckett Springs Hospital in West Chester Twp., which just celebrated its first year of operation, will break ground this month on 24 additional beds for addiction and mental health services.
Sojourner Recovery Services, headquartered in Hamilton, will open a new 26-bed recovery housing program for women in the city on Oct. 8, said Scott Gehring, president and chief executive officer.
Beckett Springs, the eighth hospital serving Butler County, opened its doors in July 2013 with 48 beds. The hospital offers inpatient treatment; partial hospitalization with the patient coming in five days a week for six hours at a time; and intensive outpatient or same-day services to adults and seniors.
The hospital also has a new CEO in Phil Sheridan, who comes from leading a 200-bed facility in Utah, and a new director of business development, Kim Guy, who was promoted from within.
Sheridan said construction of the 24 beds is expected to last 10 months and will also expand the size of the hospital's fitness room for patients. He said it hasn't been decided yet for what type of patient those beds will be dedicated.
"The best prediction is half for primary psychiatry and half for substance abuse; the need (between them) is eerily similar," Sheridan said.
The hospital treated 1,048 patients in its first year, with an equal split between drug addiction and mental health, officials said.
"In early 2014 we got traction in the community and people began recognizing it as a resource," Sheridan said.
The hospital, situated on Shepherd Farm Drive, has even more room to grow as it owns 10 acres of land on the West Chester site, Sheridan said.
The business development office is completing a needs assessment of the community to determine the feasibility of services such as geriatric psychiatry and electroconvulsive therapy.
For the Hamilton community, Sojourner has several projects in the works, Gehring said.
On Sept. 8, its clinic on University Boulevard is adding ambulatory detox services to complement the existing medically-assisted treatments using suboxone and vivitrol. The ambulatory detox will be a three-day option for the patient to come in for five hours each day to be medically monitored, Gehring said.
On Oct. 8, Sojourner's new recovery housing program will debut in Hamilton. The program will be comprised of three residences — all next to each other with a connected backyard — that have tiered levels of sober living, Gehring said.
"It's definitely a service Butler County needs; there's a gap in the care continuum," Gehring said, adding the shift from a controlled, residential program to living independently can be precarious for someone in recovery.
Sojourner, currently with 64 beds for addiction services, will have 90 beds operating once the recovery housing program opens. The program will offer a network of peer support and supportive services for finding employment and permanent sober housing, Gehring said.
The addition of recovery housing will add seven new jobs to the Sojourner staff of over 100.
The nonprofit agency is also eyeing spaces to lease in Oxford, Middletown and West Chester for intensive outpatient therapy and medically-assisted treatment in those communities.
Outpatient therapy in Oxford and Middletown would include group and individual sessions, Gehring said. His hope for the West Chester location is to open a residential treatment facility with intensive outpatient therapy.
"We're going to go where the need is," Gehring said.
Gehring said with heroin addiction most commonly affecting men ages 18-26, an addiction treatment program in Oxford would benefit the Miami University student population.
"They're functional addicts taking their pills but going to class," Gehring said.
Oxford police Chief Bob Holzworth said he believes a treatment center in Oxford would be beneficial to the community.
"We do have a heroin issue here in Oxford," Holzworth said. "I never thought I'd say those words when I started 40 years ago. We have to carry around narcan and be prepared."
Butler County is on par to exceed its number of 118 drug overdoses reported in 2013. The county has recorded 95 drug overdoses so far this year — with 67 relating to heroin, fentanyl or a combination of the two drugs, according to the Butler County Coroner's Office.
Earlier this summer in Hamilton, Modern Psychiatry and Wellness opened its Hamilton Center on North F Street to offer safe drug detox and intensive outpatient therapy. The office is currently renovating a nearby residence on Park Avenue for group therapy sessions.
The Lindner Center of HOPE in Mason, operated by UC Health, primarily offers mental health diagnosis and treatment but does treat co-occurring addiction issues, said spokeswoman Jennifer Pierson.
The facility has a total of 80 beds for adults and adolescents.
"People who struggle with mental health may use alcohol or (other) drugs to self medicate; those issues are prevalent in mental health," Pierson said. "We've been in the process of evaluating opportunities to expand addiction services."
http://www.journal-news.com/news/news/addiction-services-growing-in-county/nhFSd/