A new restaurant chain opens its first Butler County location today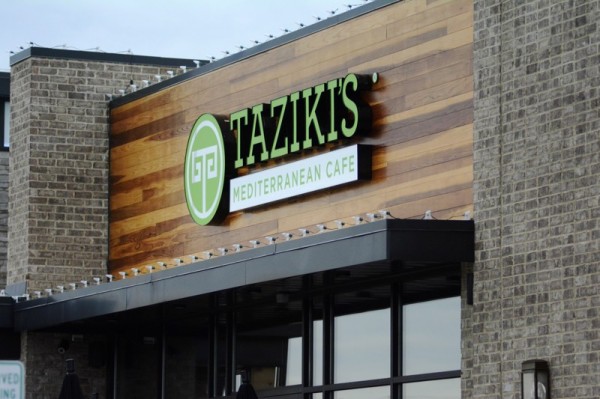 Taziki's Mediterranean Café will open its first Butler County location today at 7841 Tylersville Road in West Chester Twp. in the West Chester Plaza that is home to Kroger and other businesses.
The new 3,650-square-foot location, which is the second Taziki's location in Ohio, features a covered patio with outside seating that can accommodate 50 people. A ribbon-cutting ceremony for the new West Chester location takes place at 10:30 a.m. today alongside the West Chester-Liberty Chamber Alliance.
Here are a few things to know about the Birmingham Ala.-based chain, which has more than 82 locations in 16 states:
1. Healthy food is a specialty
Taziki's is known for its healthy meal options, including grilled salmon, tomato basil sandwich, fresh-grilled Mediterranean gyros, fresh prepared meats and various seafood, vegetarian and gluten-free options.
The restaurant starts with fresh ingredients and makes everything from scratch, including dressings, sauces and other items, according to local owner/operating partner Matthew Warren.
In 2015, the United States Healthful Food Council announced that Taziki's Mediterranean Cafe' had become the first national franchise to achieve REAL Certification, the emerging national standard for foodservice nutrition and sustainability. It's also the largest chain restaurant to complete the certification process.
2. Design elements evoke a beach-resort vibe
The new Taziki's includes aspects of the new 'Mediterranean-Coastal' design gracing the interior of Taziki's newest restaurants.
Those elements include shades of bright white and deep ocean blue for interior accent pieces, hanging wicker lanterns, plenty of natural lighting and exposed wooden ceiling beams for the experience of dining outdoors.
3. It's the second Taziki's in Ohio
The first Taziki's location opened last year at 9640 Mason-Montgomery Road in Deerfield Twp. That restaurant will celebrate its first anniversary on March 28 by giving away free meals and a catering package.
"Now with two locations in Ohio more people can enjoy fresh, healthy, diverse and affordable food options," Warren said. "We believe great food brings people together, and we want our restaurant guests to feel like dinner guests in our home. We want our guests to relish extraordinary meals that are as colorful as the Mediterranean."
4. It will give back from the get-go
To celebrate the restaurant opening, a donation will be made to "Restavek Freedom," which is an organization that is working to end child slavery in Haiti. Restavek Freedom was founded in 2007 and now has more than 30 employees in two main locations in Haiti; Port-au-Prince and South Haiti, and a small support staff in Cincinnati.
That's not the only giving Taziki's does. A community board in the back of the restaurant lists local non-profit events with information about how to participate.
https://www.journal-news.com/news/new-restaurant-chain-opens-its-first-butler-county-location-today-here-what-you-should-know/YSTk9tj5S2VXGpraxHxWDL/