7 things that make Butler Tech one of the most unique and innovative districts around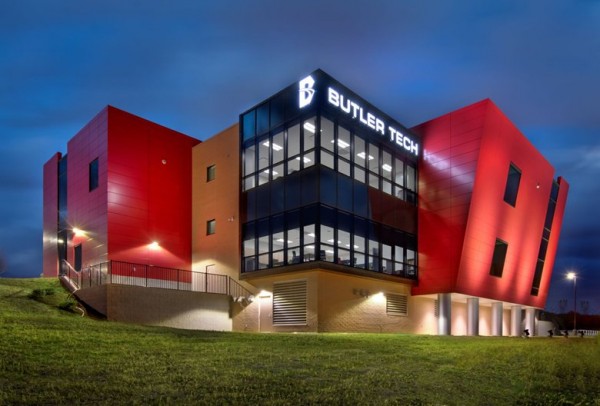 Last week's news about Hamilton Schools' long-time career education school in talks to merge into Butler Tech is just the latest in a series of big news events for the county-wide school system.
Butler Tech is one of Ohio's largest career school districts and continues to get bigger.
The district has five campuses in Butler County and dozens of satellite classrooms for various job training and learning in nine of the county's 10 public school systems and Northwest Schools in northern Hamilton County.
The school also operates a commercial truck driving training program in Montgomery County.
Butler Tech is one of only three publicly funded career school systems in southwest Ohio.
Here are seven things that make Butler Tech unique:
Butler Tech, one of Ohio's largest career school systems, is getting bigger.
1. The campus is expanding. The opening of the $16 million Bioscience Center in 2015 in West Chester Township marked a new and still expanding campus for Butler Tech. The school trains hundreds of high school students annually in the medical and healthcare fields with many of the graduates moving on to jobs with health-care providers and hospitals along the booming Interstate 75 north to Dayton corridor.
2. Innovative leader. In 2016 the governing board of Butler Tech hired a new superintendent. It picked Jon Graft, a 28-year-veteran public school administrator in the county who was hailed by both area school and business leaders as an aggressive innovator who appreciates the value of growing corporate partnerships.
Butler Tech has opened 1 of only 7 high-tech career labs in Ohio.
3. Career lab is unique. Butler Tech opened its first career lab for eighth graders in 2017, which is one of less than a dozen offered in Ohio schools. The career lab's many work stations are marked – Dental Assisting, Welding, Automotive Collision, Cosmetology, Health Technologies and 16 others – where students busy themselves by either interacting via computer keyboards or hands-on tool work mimicking in some fashion the type of work such careers entail.
4. Transforming an amusement park site. Also in 2017 Butler Tech bought 36 acres of the former Americana Amusement Park – formally LeSourdsville Lake – in Monroe. Work begins next week on transforming the site into the school system's sixth campus for adult education classes.
5. Will accept sophomores. And shortly later Butler Tech announced for the first time it will begin to accept some high school sophomores into its many career education programs.
6. Change in personality. In January Butler Tech changed its logo of many years. Officials with the school system said a new symbol was needed to reflect the rapidly expanding school system.
7. Thousands of students. As of this school year, 1,400 full-time high school students are learning new careers in Butler Tech classrooms and an additional 15,600 part-time students are taking career education classes at 28 satellite programs in local schools.
https://www.journal-news.com/news/things-that-make-butler-tech-one-the-most-unique-and-innovative-districts-around/QoXmcyxDsvLIiJmuzPXy1O/new.html