3-D manufacturing next Industrial Revolution?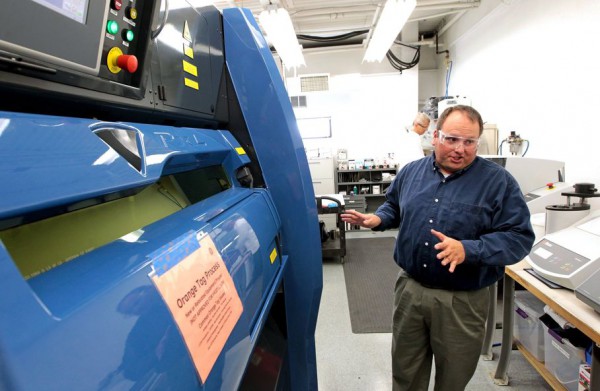 Advances in 3-D manufacturing technology are heralding the next Industrial Revolution, declare researchers and executives of large regional jet engine manufacturer GE Aviation.
Expected to be the biggest change to industry in decades, 3-D or "additive" manufacturing is the process of creating a solid object from a digital file, with the computer file specifying the design and dimensions of a good. A machine is programmed to "print" thin layer upon layer of material until it grows the object from the bottom up.
The "ink" in this kind of printer is a metal powder or plastic that is fused by laser and electron beams.
By comparison, traditional manufacturing takes a piece of metal or other material and machines it away to get to the end object.
The still-young 3-D technology promises to change the way products are produced and the way consumers buy products, disrupt supply chains and create new high tech manufacturing jobs in the U.S., local industry experts say. As the costs and capabilities of the technology improve,3-D manufacturing could lead to mass customization of products and replace the decades-old mass production of items or interchangeable parts, they said.
Products and materials once thought impossible can now be "grown," GE Aviation officials say.
"The benefits and the implications are so broad and so deep," said Eli Liechty, plant manager of GE Aviation's Additive Development Center. "It will be the technology of the future."
Moving the technology from the model shop to the production shop, GE Aviation in 2016 will fly its first jet engine containing parts made using the 3-D manufacturing process, also known as additive. That year, the Evendale-based company's next commercial engine comes to market, the LEAP engine, made by CFM International, a joint venture of GE and French company Snecma. Each LEAP engine will contain fuel nozzles made using the 3-D process.
The 3-D technology allows GE to manufacture fuel nozzles from a more advanced material than traditional methods. The material, cobalt chromium, can withstand temperatures of 3,000 degrees Fahrenheit.
Also, conventional fuel nozzles are made from multiple smaller pieces, whereas a 3-D manufactured nozzle is a single piece that weighs less and has no pieces welded together. 3-D manufacturing also allows the jet engine maker to produce the fuel nozzle with built-in cooling pathways.
The cost of producing the complex fuel nozzle part with the additive process is 20 percent less than a conventionally made nozzle, Liechty said.
"The biggest part of the savings is the direct labor that goes into assembling and inspecting the parts. That in fact speaks to additive being the next Industrial Revolution as well and how it will impact jobs in Ohio, as well as the U.S., and that's because what really drives cost with additive is the technology itself," Liechty said.
"Because of that technology, when we look at our production sites and doing our cost modeling for those, we will be as competitive or actually more competitive in Cincinnati and the U.S.. That's because we have the technology here, it's in our backyard and the direct labor is such a low, low portion of the actual part cost," Liechty said.
By 2017, GE Aviation will be producing 30,000 additively made fuel nozzles a year. By 2020, about 100,000 fuel nozzles will be in flight, all produced in the U.S., he said.
"When you talk about bringing the technologies and the opportunities to the U.S., additive is going to lead the way," he said.
The 3-D technology isn't ready for the masses yet, but it's predicted to become a $6 billion global industry by 2017, or nearly triple its current $2.2 billion value of goods and services, according to Wohlers Associates Inc., a Fort Collins, Colo., independent consulting firm on the subject. Industry growth is expected to reach $10.8 billion by 2021.
The technology was invented in the 1980s. Until recently, it was mainly used to build molds and prototypes of parts and products, said Josh Haldeman, chair of Cincinnati State Technical and Community College's industrial design technology program. The two-year degree program offers a course in 3-D printing.
However, 3-D manufacturing technology is expanding as it becomes cheaper and faster, Haldeman said.
"There's going to be a day where everyone has a 3-D printer in their house. Instead of going shopping, you can go to this machine, punch in what you what from a library or design it yourself," he said. "When that happens it's not going to change just manufacturing, it's going to change the world."
In the 3-D manufacturing process, less excess waste material is produced, cutting costs. Moreover, the technology replaces some casting and welding by combining multiple parts into one single unit. And if you have a broke part, you can re-reproduce it in house, within hours, from a digital file and eliminate the need for storing spares on shelves, said John Hauer, co-founder and chief marketing officer of 3DLT, a company started in 2012 in the Cincinnati area to supply digital file content.
"All the indicators are saying in the end it's going to be cheaper, greener and better quality than mass manufactured product," Hauer said. "Starting today (consumers) can already have a much wider selection" of goods to buy with the technology.
The technology increases demand for workers in highly skilled fields such as engineering, industrial design and repair technicians to create the product models and computer programs and operate the equipment, said Steve Rengers, research and development sub-section manager for GE Aviation.
Before the machines become a common household appliance, "you're going to see high-volume production. There will be machines out there in factories that are just producing parts left and right," Rengers said. "GE will be one of those firsts."
"Better" equipment also will be in use, Rengers said, meaning the machines will be able to produce more and larger products.
GE Aviation acquired the technology in 2012 through the purchase of Morris Technologies of Sharonville and sister company Rapid Quality Manufacturing of West Chester Twp. GE has been testing direct metal laser melting in partnership with those companies since 2003.
The company sees additive technology spreading to GE's other divisions including washing machines and medical devices, Liechty and Rengers said. Plans are to make more of a jet engine from 3-D produced parts in future engine studies after the introduction of the LEAP engine.
By 2020, GE Aviation plans to make more than 100,000 additive parts for the LEAP and GE9x engines (an engine in development), and invest more than $3.5 billion over the next five years in new equipment to produce the parts, according to the company.
"GE Aviation in particular is by far the world leader in industrial applications of metal additive technologies. We see ourselves several years ahead of the competition," Liechty said.
---
Three ways this matters to you
1. Experts believe 3-D manufacturing technology will not only change the way goods are made, but also change how we buy them. They believe it will be more common to have a 3-D printer at home within five years.
2. Consumers will have a wider selection of goods to buy, and be able to more customize products as the technology evolves.
3. The new technology is expected to create more manufacturing jobs in the U.S., but the jobs are high-tech and require more computer skills.
"Due to the increased availability of desktop 3-D printers and the reduced costs due to increased competition, you will see more of these in people's homes. Imagine a plastic handle breaks on a vacuum cleaner. Instead of waiting for the manufacturer to send you a replacement, you could download the file and print the part at home, saving both time and money," said Mike Cloran, spokesman for GE Aviation.
"We also could be creating a new generation of engineers and designers, much like the digital revolution created computer-savvy kids who can create their own websites, etc. We're also seeing new markets emerge. People are setting up on-line markets for uploading and downloading 3-D files for desktop 3-D printers, so designers can sell their creations."
Learn more about the 3-D Additive Manufacturing technology.
http://www.journal-news.com/news/news/3-d-manufacturing-seen-to-be-next-industrial-revol/nbdcb/