3-D glasses pop chemistry into reality for Butler Tech students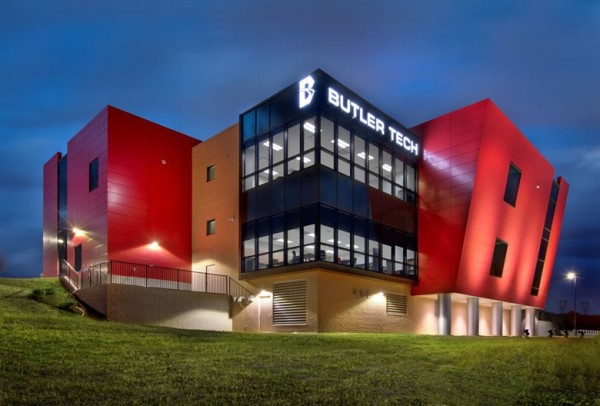 WEST CHESTER TWP.
It's easier to learn about how electrons keep atoms stable if their images are flying toward you in bright, three-dimensional forms.
That's the concept behind Butler Tech's growing use of 3-D glasses and virtual reality learning in various high school classrooms and so far it's working say students and school officials.
"A lot of times when we are talking about things in the microscopic world, giving students the ability to see something that small gives them an opportunity to implant that in their memory," said Derek Dietz, instructor for Butler Tech's Bio Science college-preparatory chemistry class.
"And it actually increases the entertainment of the classroom itself," said Dietz, who described the new learning system as "so revolutionary."
Dietz said the often dazzling video presentations — including students' heads jerking back as an image of electrons seemingly flies at them — "gives teachers an ability they have not seen before."
"We deal with students who want instant feedback and instant entertainment. To get them into a class and get them entertained is a very valuable tool for an educator," he said from his classroom on the Bio Science campus in West Chester Twp.
Alexis Sicking, a junior at the Butler Tech school, said "it's like an educational roller coaster."
"I want to be a nurse when I get older so the 3D glasses helps me learn so much more than I thought I'd ever be able to take in," said Alexis. "It brings it in (her mind) better than learning from a textbook or from a teacher talking for 45 minutes."
"It's something we really look forward to in class," she said
Junior classmate Alyssa Gerhardt agreed, saying "it's fun and it's educational, obviously."
Bio Science Center Principal Abbie Cook said the new learning tech is popular in other classes too.
"It's the first year for this program and are students are excited and our teachers are really interested in aligning the 3D content to their curriculum."
"It is a fantastic tool for visually learners and another way to deepen their knowledge. We use it lot for the sciences but there is a lot of other content as well," said Cook. "We like to keep our kids ahead of the curve (in tech learning) and this is another way we can do that."
Michael Beauchat, spokesman for Butler Tech, said "what's truly amazing is that while we have students at the Bio Science Center using virtual reality to learn science, we also have Information Technology students at D. Russel Lee campus experimenting with software to create similar virtual reality applications."
"So now we're seeing Butler Tech students get hands-on experience across this broader range of virtual reality, from developer to end user. It's getting students really excited about the careers of tomorrow and helping them figure out what's next for them after high school," he said.
http://www.journal-news.com/news/glasses-pop-chemistry-into-reality-for-butler-tech-students/qw44uc7Znxdjqf4IwvyztK/