$40M TriHealth-anchored development in West Chester to include hotel, retail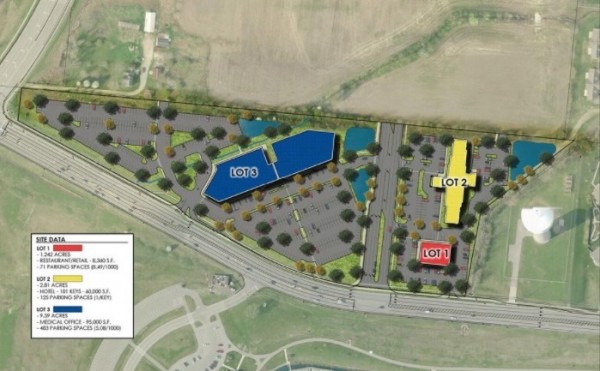 A planned $40 million development in West Chester Township would add a hotel and retail to a TriHealth medical center.
As my colleague Barrett Brunsman previously reported, TriHealth plans to buy a scaled down piece of property for its new medical center, which is expected to eventually include nearly 100,000 square feet of space. But the developer for the project, Dayton-based Miller-Valentine Group, also plans to build a hotel and small retail building at the property at Cox Road and Liberty Way.
Miller-Valentine is the developer and contractor for the TriHealth component of the project. Miller-Valentine is partnering with Bellevue-based Brandicorp on the retail and hotel components.
Brian Copfer, senior vice president of commercial development for Miller-Valentine, said the plan for the property includes a four-story, 101-room hotel, an 8,360-square-foot retail/restaurant building and TriHealth's building. The 14.7-acre property also would have a total of 679 parking spaces.
"This site has great visibility, great connectivity to all of the amenities in the area and it's right across the street from Voice of America Park," Copfer said.
Phasing on the project has not been determined yet, but Copfer said they would like to buy the property by the end of the year. Site work would begin as soon as possible, weather permitting, with construction scheduled to start at the beginning of 2018.
The growing number of hospitals in the area are generating more demand for hotel rooms, Copfer said. The hotel brand has not been determined at this point. Also, Copfer said the exact makeup of the retail building hasn't been determined.
Copfer said the developers have worked out infrastructure issues with Butler County and West Chester Township.
"They have been fantastic to work with throughout this entire process," Copfer said.
The land is currently owned by Butler County Transportation Improvement District. The developers are asking West Chester Township trustees for a zoning change to commercial planned unit development from agricultural for the project. A vote on the change and the preliminary development plan is scheduled for Aug. 22.
https://www.bizjournals.com/cincinnati/news/2017/08/11/40m-trihealth-anchored-development-in-west.html?ana=e_du_prem&s=scroll&ed=2017-08-11&u=tBmD2vXOO43GkvBi9gAy1GAUhYr&t=1502480302&j=78685661