Tylersville Road widening part of $15 million construction plan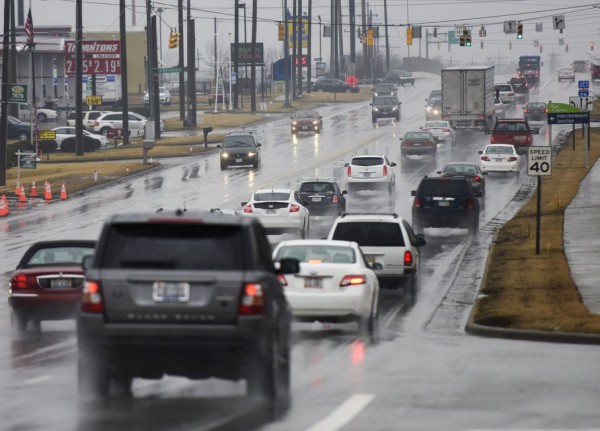 The Butler County engineer plans to spend $15.3 million rebuilding bridges, improving intersections, paving roads and other capital projects this year.
The most impactful project will likely be the widening of Tylersville Road, arguably the busiest street in the county, from Interstate 75 to Cox Road. The $2 million project will add an eastbound lane and improve the intersection at Kingsgate/Dudley Road. The lion's share, $1.5 million, will be paid by West Chester Twp.
County Engineer Greg Wilkens said the road needs help.
"I think this is the heaviest load of traffic we've got in the county," he told the county commissioners this week. "There are 50,000 ADT (average daily traffic) every day of traffic on this road. I don't think we'll ever get enough lanes in there, but we're going to make an attempt."
This is the first phase of the project and construction will begin this summer. The second phase addresses the north side of the road, but Wilkens said acquiring right-of-way is going to be a little more difficult.
The project is bound to cause headaches for drivers, but West Chester Twp. spokeswoman Barb Wilson said they will do everything they can to keep people apprised throughout the duration.
"West Chester works closely with partnering agencies when it comes to road projects. The work on Tylersville Road will require patience and cooperation from the traveling public and from the businesses in and around the construction area," Wilson said. "West Chester's Community Development Department will maintain an open line of communication throughout the project to make sure businesses are kept informed of progress and can provide feedback and specific concerns throughout the process."
In all, the engineer's office plans to tackle 39 projects, including paving 56.4 miles of roadways. Wilkens was able to secure $4.2 million in grants and outside funding to help with bridge, road and intersection work, but the $6.5 million for repaving is all paid for with local dollars.
"This is the number one area we need help in," Wilkens said. "There are no grants available, the townships are suffering. In an ideal world, we'd like to be at a 15-year cycle for resurfacing; we're typically now at a 28-year cycle."
A year ago, when Wilkens presented his $20.7 million capital program — the engineer received several large grants last year — Commissioner Don Dixon promised the county would soon be able to give him some financial assistance. Dixon said a monetary commitment from the county at this time in the construction season would be too late, but he is hoping the commissioners will be able to lend a hand next year. About $170,000 of Wilkens' $15 million budget comes from the general fund.
"It's really too late in the year for him to get it in any kind of program now," Dixon said. "So we'll have to get a jump on this in about six months and figure out how much it's going to be. Hopefully, we'll be able to start with a modest amount and then build on it each year."
Other projects include replacing or repairing six bridges; installing roundabouts at Ohio 748 and Layhigh Road and at Eaton at Beissinger roads; widening Wayne Madison, Kyles Station and Beckett roads and replacing or repairing 15 culverts, among other projects.
http://www.journal-news.com/news/news/tylersville-road-widening-part-of-15-million-const/nkSRq/