New 'mega' Bass Pro Shops store likely to open in 2024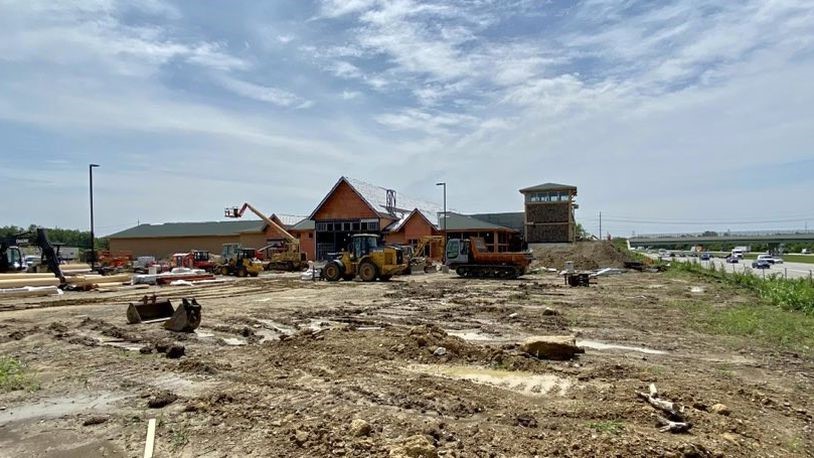 Store at former Forest Fair Mall in Fairfield will close.
One of the most anticipated and high-profile new businesses to come to West Chester Twp. is taking shape as it rises next to Interstate 75.
The new and massive Bass Pro Shops, which will be a 123,348 square foot mega-store that will include a 20,000- square-foot restaurant, is nearing completion of its exterior and roof, which includes two, four-story towers along the eastern border of I-75 north.
The long-awaited outdoors store, which sits on acreage first purchased by Bass Pro Shops in 2013, will add the latest high-attraction feature to the growing Streets of West Chester retail, restaurant, and entertainment complex at the I-75 and Union Centre Blvd. interchange.
Construction work began earlier this year and officials with the national chain said the giant store is scheduled to open in spring 2024.
In a statement released by a spokesperson with Bass Pro Shops, the company is eager to open its first Butler County store.
"The destination retail store will expand the outdoor and conservation company's ability to serve the passionate sportsmen and women in the greater Cincinnati community with the widest selection of quality products at the best prices around and provide genuine, friendly expert service," said company officials.
"The new location will include Bass Pro's signature features, such as localized imagery and hand-painted murals depicting local scenery, a large aquarium stocked with native fish species, and a boat showroom with industry-leading boat and ATV brands."
The store is the latest in a series of first-class business developments for the booming West Chester community in southeast Butler County, said Township Spokeswoman Barb Wilson.
The popular store will be short walk from southwest Ohio's only Top Golf attraction, restaurants and a movie theatre while standing across I-75 from the region's only Ikea store.
"Bass Pro will be another exceptional neighbor joining first-to-market, unique retailers and entertainment and dining options that now comprise The Streets of West Chester," said Wilson.
"The Streets has set itself apart as a destination with businesses like Duluth Trading, Top Golf, as well as Holtman's and its newest residents Sonder's brewing (joined soon) by Bass Pro Shop. The addition of Bass Pro demonstrates the sustainability of West Chester as a place to live your best life and place where businesses prosper and families grow."
"Bass Pro is moving ahead quickly and West Chester is thrilled to see the progress. The building looks great and once opened will certainly offer our community a unique experience," said Wilson.
The opening of the West Chester store will also see the closing of the existing and smaller Bass Pro Shops attached to the former Forest Fair Mall in Forest Park along the southern border of Fairfield.
I-75 is one of the nation's most heavily traveled interstate highways, said Joe Hinson, president and CEO of the West Chester/Liberty Chamber Alliance.
The addition of the upscale outdoors store at such a high-visibility location will further attract customers to the fast-growing township, said Hinson.
"The construction of the new Bass Pro Shops has changed the landscape in West Chester along I-75 very quickly," said Hinson. "This unique 123,348 square foot facility, including a 20,000 square foot restaurant, will be a destination location for our area and the Tri-State Region."
"The 22 acres off of Allen Road stayed vacant for almost a decade after Bass Pro Shops purchased the land. With 153,000 vehicles a day traveling on I-75 through West Chester, this giant retailer will provide an economic boost to West Chester and Butler County and bring new energy to The Streets of West Chester. And the closest Bass Pro Shops to their new West Chester location will be two hours away in Clarksville, Indiana."
https://www.journal-news.com/business/new-mega-bass-pro-shops-store-likely-to-open-in-2024/QJGMZ37KPFEFJK7ONEVDVAXG7M/