Latest Union Centre development complete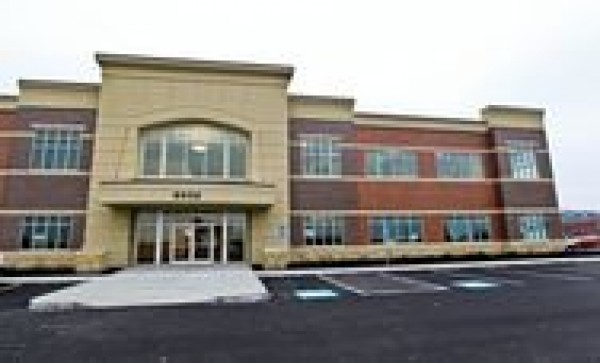 Schumacher Dugan constructs first of two 32K-square-foot office buildings.
By Hannah Poturalski
WEST CHESTER TWP. —
A new office space in the heart of West Chester Twp. is open for business with its first official tenant moving in this week.
Schumacher Dugan Construction, Inc. has been working since May to construct a two-story, 32,000-square-foot office building located at 9032 Union Centre Boulevard, said Mark Schumacher, vice president and general manager.
The $5 million project has the capacity for six tenants, ranging from 4,000 to 8,000 square feet. Schumacher said the office building has the potential to house medical or sales offices such as a dentist, or other companies looking for a presence in northern Cincinnati.
"This place is a hot space; it's a great, convenient location," Schumacher said of Union Centre.
Schumacher said the construction firm is also planning an additional $5 million, 32,000-square-foot office space next door. He added construction could likely begin next summer — or once the first building has 75 percent occupancy and an initial tenant has been identified for the second space.
The first tenant to move in, Millikin & Fitton Law Firm relocated Dec. 10 from its Mason office on Tylersville Road to the new space in West Chester Twp., said Cathi Evans, president-elect at Millikin & Fitton.
She said the move to West Chester was a "natural progression" as the law firm has always been based in Butler County since its inception more than 170 years ago. As well this year, the law firm relocated its downtown Hamilton offices in November to the Historic Mercantile Lofts at 232 High St.
"It's kind of been our plan, with the original move 10 years ago to Mason, to better position ourselves to serve the county," Evans said, adding a major draw to Union Centre is the proximity to highways, including Interstates 75 and 275.
Schumacher said originally the company had planned to develop retail space at this location when the land was purchased in 2008. The neighboring plot has been under Schumacher Dugan's ownership since 1993.
"Until the recession hit we thought retail would hit this area," Schumacher said. "The next best use is office buildings."
Schumacher said five- to 10-year leases are available, with custom build options. He said the second tenant — an insurance company he couldn't name yet — will be moving in soon.