It is official: TopGolf building 1st Ohio location here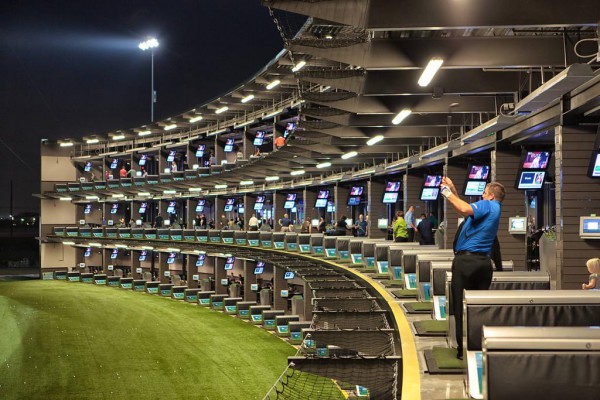 TopGolf International started construction on its West Chester Township location, the first in Ohio.
The 65,000-square-foot facility, which will have 102 climate-controlled hitting bays, is expected to open in early summer 2016. It will be located on the southeast corner of Interstate 75 and Union Centre Boulevard at the second phase of the Streets of West Chester.
"West Chester exemplifies what TopGolf is looking for in a market – its location is convenient for both the Dayton and downtown Cincinnati markets," said Zach Shor, real estate vice president with TopGolf. "With a large number of employers, West Chester also offers a strong daytime population and demographics that align with our target audience."
TopGolf is like a driving range turned up to 11. Players hit golf balls containing computer microchips that track each shot's accuracy and distance while awarding points for hitting targets on the outfield. Nearly half of TopGolf's guests describe themselves as non-golfers, according to the company.
The three-level location will have up to 3,000 square feet of private event space, more than 230 high-definition flat-screen TVs and an extensive food and beverage menu. Shor estimates TopGolf West Chester will serve about 450,000 visitors in its first year of operation.
Topgolf will create 450 full- and part-time jobs at the new location. The attraction's economic impact on West Chester is expected to be more than $264 million over a 10-year period, according to a third-party audit.
I reported in April that TopGolf was interested in building one of its sports entertainment complexes at the second phase of the Streets of West Chester.
LPC Retail, the new owner of the Streets of West Chester, announced in July 2014 that it was starting pre-development leasing and marketing for a 200,000-square-foot expansion scheduled to open in spring 2016. TopGolf is leasing 12 acres from LPC Retail.
TopGolf, which was founded in 2000, has 22 locations serving a projected 8 million guests annually. The company plans to have 100 sites around the country.
http://www.bizjournals.com/cincinnati/news/2015/09/09/it-s-official-topgolf-building-1st-ohio-location.html