Half a million in changes coming to Mercedes-Benz of West Chester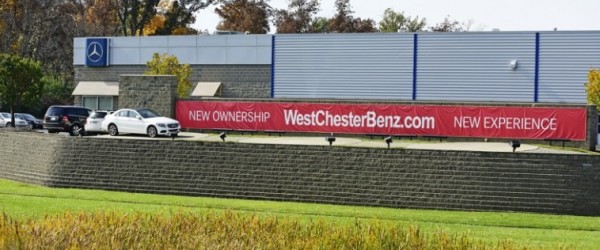 WEST CHESTER TWP.
Mercedes-Benz of West Chester is planning $500,000 worth of renovations to its highly visible facility along Interstate 75.
The business, which sits on nearly 7.5 acres at 5897 Muhlhauser Road, recently filed a permit for commercial alterations totaling half a million dollars.
"We are excited to announce we have begun construction of a newly renovated dealership," the company posted on its website. "We are completely renovating the Sales and Service areas to provide the best possible experience for our guests."
The renovated center is aimed at offering "a more modern, spacious and comfortable facility," according to the dealership.
Partners Peter Boesen and Steve Zubieta and majority partner David Peterson purchased the dealership, which was constructed in 2005, in March 2016 for nearly $13 million.
We've reached out to Mercedes-Benz of West Chester for more information on the renovation.
http://www.journal-news.com/news/half-million-changes-coming-mercedes-benz-west-chester/fMrXANxtWNo1xdYsvPijkI/