GE Aviation plans more investments in Ohio on technology, research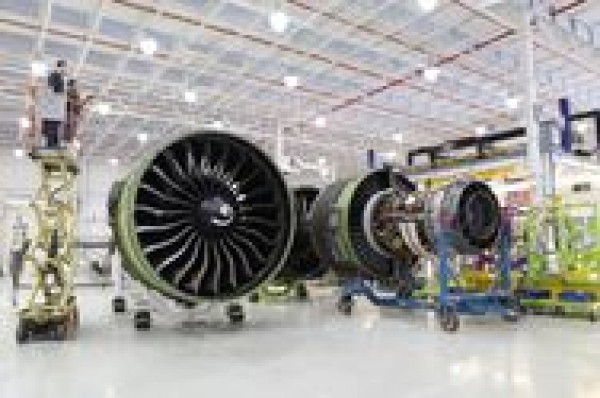 GE Aviation now says it plans to invest $300 million in Ohio in building improvements and equipment over the next three years, increasing the jet engine maker's forecast for capital spending made earlier this year.
In April, GE Aviation officials said the company was planning to invest $200 million through the end of 2015 in its Ohio operations including the Dayton area, Evendale and Peebles.
The southwest Ohio jet engine maker is increasing its investment estimates to include additional spending on additive, or 3-D manufacturing technologies, and other research initiatives.
"Ohio is the headquarters for GE Aviation, and our increasing investment in the facilities located in Evendale, Dayton and Peebles demonstrate our commitment to the state. With increasing production rates on our engines, these investments will help ensure we can continue to meet our customers' needs for jet engines," said GE Aviation spokeswoman Deborah Case in a statement.
Before-mentioned projects include a new building at the company's Evendale complex, located in suburban Cincinnati, to house a new test cell for engine combustors. The new building will handle engine tests for higher air compression rates. Also, a new test cell will be constructed in an existing Evendale building for marine and industrial aero-derivative engines, the company said, which makes commercial and military jet engines and parts.
A second engine test facility is being built in Peebles, in southern Ohio, to handle higher production volume.
At a Beavercreek jet engine component manufacturing site, plans are to establish a high-pressure turbine blade castings laboratory to study development. A vendor currently makes the blade castings.
The increased level of spending that came to light Tuesday includes additional investments in 3-D manufacturing at facilities in West Chester Twp. and Sharonville, Case said. 3-D printing is the process of creating solid objects from a digital file by printing thin layers of material one on top of another.
GE Aviation's next big commercial product to enter service in 2016, the LEAP engine, will be the first commercial engine to contain 3-D manufactured parts. The fuel nozzles will be produced with the technology.
Also, the earlier estimates did not include GE Aviation's Electrical Power Integrated Systems Research and Development Center (EPISCenter), a project in collaboration with University of Dayton. The research center opens for business on the university campus Dec. 13 to conduct research on aircraft electrical power systems.
GE Aviation is also investing in five Cincinnati-area "lean labs," which are research manufacturing labs that develop and test production of new technologies on a small scale. After tested at a lean lab, the process is replicated in GE's full production plants.
On Thursday, the company will hold an event to discuss the new GE Aviation Research Center in collaboration with the University of Cincinnati Research Institute, which is to be housed at the company's Evendale headquarters. Investment related to this research project is also included in the $300 million estimate.
Engine orders overall are up as a result of new product innovation, the company has previously said. GE Aviation in 2010 delivered a total 2,800 jet engines, including ones made by joint venture CFM International. It's expecting to deliver 3,600 engines this year and 3,800 in 2014.
On Monday, the Ohio Tax Credit Authority approved to amend an existing tax credit agreement with GE Aviation.
GE Aviation in 2009 received a 15-year Job Retention Tax Credit from the state, and committed to spending $100 million on its Evendale headquarter operations and retain 5,000 jobs. GE Aviation says it met that investment commitment by 2012. The $300 million capital announcement is in addition to that, company officials said.
The renegotiated incentives approved Monday maintain the same terms as before — a 15-year, 50 percent tax credit abatement that expires in 2023 worth up to $8 million a year. But now a portion of the incentives, up to $2 million a year, is refundable, according to Ohio Development Services Agency.
Job Retention and Creation Tax Credits are calculated based on a company's income tax withholding owed to the state on employee wages every year. The income tax revenues are multiplied by the tax credit percentage (50 percent in GE's case), and the credit is deducted from the amount of corporate taxes the company owes state government for the year.
In the case that the tax credit is greater than the amount of corporate taxes owed, GE, per the renegotiated tax agreements, will get a refund of up to $2 million a year for the difference, according to officials with Ohio Development Services Agency.
GE Aviation employs a total 9,100 workers in the Cincinnati-Dayton region, Case said.
---
Three reasons why this matters to you
1. GE is the largest manufacturer in Ohio, including GE Aviation, headquartered in Evendale in Hamilton County. It is important to the livelihood of residents throughout the area that GE Aviation retains the 9,100 people it employs in the Cincinnati-Dayton area, and to thousands of people who work for businesses that supply goods and services to the company.
2. GE Aviation is growing engine production and increasing investments in certain technologies and research. The growth can create high-paying new job opportunities.
3. If GE Aviation is investing more in building improvements, new facilities and equipment, that means more investment in real property that could potentially generate higher property tax revenues for local governments as well.
http://www.journal-news.com/news/news/ge-aviation-plans-more-investments-in-ohio-on-tech/nbb87/