Cincinnati hospital reveals details of new $10M unit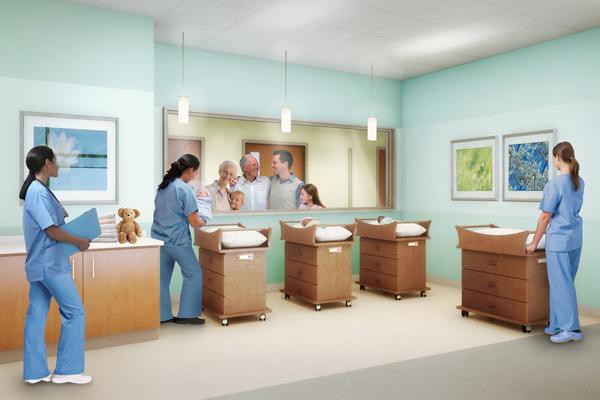 About 50 new jobs will be created when West Chester Hospital completes construction of a $10 million maternity ward next year.
The hires will include nurses and doctors who specialize in obstetrics. I reported on plans for the maternity ward this past July, but until now the hospital hadn't revealed the cost of the project, how many people would be hired or how many babies might be born there.
"We expect to deliver approximately 500 babies in the first year but are building to accommodate significant growth since we don't know what to expect (in year two) and beyond," said Deb Titlebaum, spokeswoman for the hospital affiliated with UC Health.
By comparison, Fort Hamilton Hospital in Butler County delivered 595 babies last year, Atrium Medical Center in Middletown delivered 859 and Mercy Health's Fairfield Hospital delivered 2,021. The top local hospital was Good Samaritan in University Heights, which delivered 6,001 babies last year.
The 26,500-square-foot maternity ward at West Chester Hospital is expected to open by May. The project involves renovating the third floor of the existing patient care tower at the 5-year-old hospital. Danis Group of Dayton is the general contractor. The architectural firm is HKS Inc., which is based in Dallas.
"Construction is 60 percent complete and right on schedule," Titlebaum said.
Frederic Holzberger, founder and CEO of the Aveda Fredric's Institute cosmetology school, and his wife, Julie, recently donated $100,000 for the maternity ward. The nursery at the hospital, which will function as a Level IIB neonatal intensive care unit, will be named for them.
Another $10,000 was donated by Patti Alderson, CEO of the Community Foundation of West Chester/Liberty, and her husband, Dick Alderson, president of Alderson Properties, a commercial real estate firm.
The maternity ward will also include eight delivery suites, two Caesarean-section operating rooms and triage rooms.
http://www.bizjournals.com/cincinnati/news/2014/12/02/cincinnati-hospital-reveals-details-of-new-10m.html