CARSTAR NORTH AMERICA CELBRATES 500TH STORE OPENING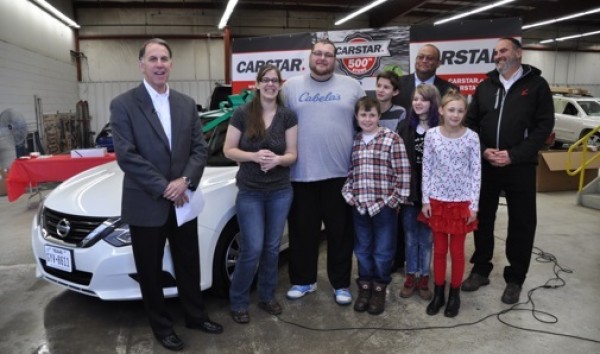 CHARLOTTE (January 17, 2017) – CARSTAR North America, the continent's largest Multi-Shop Operator (MSO) Network of independently owned collision repair facilities, hit a huge milestone with its 500th location in North America. CARSTAR West Chester, just north of Cincinnati, Ohio became the 500th collision shop under the CARSTAR banner, the first MSO to pass the 500-location mark.
As part of the celebration, CARSTAR West Chester refurbished a family sedan to donate to a deserving local family – Theresa Workman. Workman is a hard-working woman, mother and wife. Her husband lost his job following two different injuries and she became the sole financial provider for their family of six. When the family car broke down they couldn't afford the repairs. Her boss at the used car dealership let her borrow one to drive to work, but she will now have reliable transportation for her and her entire family.
"I'm just so thankful," said Workman. "It's unbelievable to know that there are programs like this and companies like CARSTAR willing to help out when families are in need. I'm still in shock right now."
The donation is part of the National Auto Body Council's (NABC) Recycled Rides® program. Owner Kevin Raines and his staff at CARSTAR West Chester meticulously restored the vehicle, donated by Nationwide Insurance, with additional support from 3M and LKQ/Keystone. Raines and Nationwide presented the car to Ohio-resident Workman and her four children.
CARSTAR North America was founded in 1989 and joined Driven Brands, Inc., in 2015. In 2016, it was integrated with CARSTAR Canada to become CARSTAR North America with 52 new CARSTAR locations opening across North America, including CARSTAR West Chester.
CARSTAR executives were on hand for a celebratory event on Jan. 17 at CARSTAR West Chester including Dean Fisher, Chief Operations Officer, CARSTAR North America along with Kevin Norman and Don Dull from Nationwide, as well as representatives of 3M, LKQ and the community.
"This is truly a landmark day for the CARSTAR network," said Fisher. "We are proud to welcome Kevin Raines to the CARSTAR family and honored that he is the owner of the 500th store in our system. Kevin embodies the ideal CARSTAR owner – an excellent operator, dedicated to the highest quality repairs and unwavering customer service, and committed to giving back to his community."
"It was an honor to be able to work with Nationwide and our partners like LKQ and 3M to return this vehicle to safe, road-worthy condition so that Theresa and her family can have reliable transportation," said Raines, owner of CARSTAR West Chester and CARSTAR Center City. "Not only is a vehicle critical for managing daily life, we hope it opens up new opportunities for Theresa and her family to pursue their dreams of a better life."
Recycled Rides® is a nationwide community service project whereby members of NABC repair and donate recycled vehicles to families and service organizations in need in their own communities. Recycled Rides recruits collision repairers, insurers, paint suppliers, parts vendors and others, to contribute in their own, yet synergistic ways. CARSTAR shops have been participating in the Recycled Rides program for over a decade and have refurbished and donated more than 100 vehicles back to their communities.
Click here for additional photos from the event.
About CARSTAR
CARSTAR North America -- a part of the Driven Brands, Inc. family of automotive aftermarket franchise brands -- is North America's largest Multi-Shop Operator Network of independently owned collision repair facilities with more than 500 locations in 30 states and 10 Canadian provinces. CARSTAR delivers national scale, consistently high-quality vehicle repairs, repeatable outcomes and the industry's highest customer satisfaction ratings; all repairs are backed by a national warranty and service guarantee. CARSTAR was named the No. 1 largest MSO in North America by The Romans Group LLC, named 470 on Entrepreneur magazine's Franchise 500® list and ranked 106th on Franchise Times® annual Top 200™ listing of the largest franchise systems in North America. For more information visit www.carstar.com and follow us on Facebook and twitter. CARSTAR is actively seeking new franchisees. Interested parties should contact Sam Freeman at sfreeman@carstar.com or 888.505.6815.
###
Deborah Robinson
President
Victory Management Group PR
312.505.4336