Cabelas finalizes plans for first Greater Cincinnati store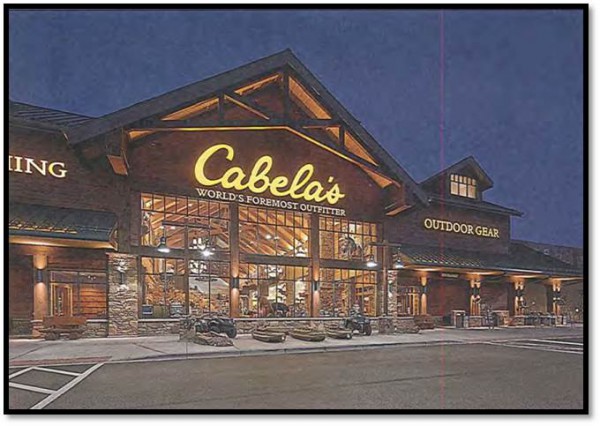 Cabela's is officially bringing its first store to Greater Cincinnati.
The outdoor retailer announced its plans for an 82,000-suare-foot store in West Chester on Thursday. Construction on the new location at the intersection of Liberty Way and Interstate 75 is expected to begin this fall, and the store is set to open in fall 2015.
The Courier first reported on the plans for Cabela's in June.
The new store is expected to employ about 200 full-time and part-time workers and will be developed by Tom Humes, president and CEO of Great Traditions Land & Development Co. It will have the retailer's signature look, with log construction, stonework, wood siding and metal roofing. It will feature a large glass storefront so customers can see inside as they approach the building.
The interior will feature a large mountain replica and museum-quality wildlife displays. The store will hold thousands of products and include an indoor archery range and archery tech room, deli, gun library, bargain cave, fudge shop, and full-service boat shop.
"The state of Ohio welcomed Cabela's with open arms when we opened out Columbus store last year," Cabela's CEO Tommy Millner said in the announcement. "We're thrilled to announce a second location in the Buckeye State and confident West Chester and the entire Cincinnati area will also welcome and support Cabela's."
Cabela's has 61 stores in North America and plans to open 18 more in the next two years.
The retailer will face competition for sporting and outdoor goods spending at the new site. Nearby Liberty Center, a $350 million mixed-use project, will be anchored by Dillard's and a Dick's Sporting Goods flagship store. Bass Pro Shops is also building a 150,000-square-foot store in close proximity, complete with a more than 10,000-square-foot restaurant and bowling alley called Uncle Buck's Fishbowl and Grill.
Caproni heads up web operations for the Business Courier.
http://www.bizjournals.com/cincinnati/morning_call/2014/08/cabela-s-finalizes-plans-for-first-greater.html?ana=e_cinci_rdup&s=newsletter&ed=2014-08-29&u=tBmD2vXOO43GkvBi9gAy1GAUhYr&t=1409342283