Butler Tech bioscience campus combines classrooms, private businesses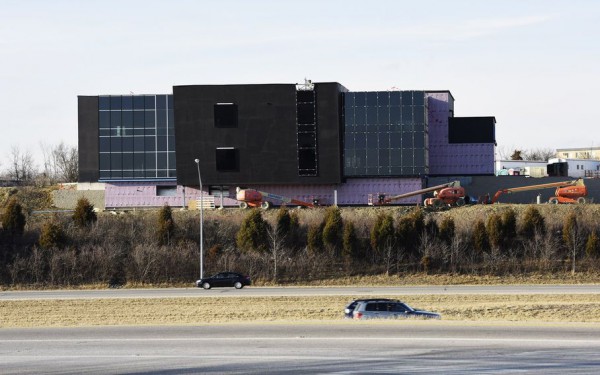 WEST CHESTER TWP. —
Butler Technology and Career Development Schools will do something it has never done before as it builds out its 26-acre campus in West Chester Twp. — share space with the private sector.
By building classrooms next to corporate offices, Butler Tech leaders say they want to be the region's frontrunner when it comes to providing training for an in-demand field.
"You will do what you train," said Ed Pokora, Butler Tech chief financial officer, about the opportunities for students.
The bioscience field is the cross-section of business and health care, and includes companies such as medical device manufacturers, pharmaceutical companies, health technology and agricultural technology, said John Lewis, president and chief executive officer of trade group BioOhio.
Bioscience companies employed nearly 15,000 workers in Ohio last year, paying on average $69,349 a year, according to University of Cincinnati Economics Center research.
Future Butler Tech bioscience students will have on-campus internship and co-op opportunities, Lewis said.
"I think what they've done very nicely is assess some of and listen to some of the companies in the region and what their needs are and try to address some of those with their new campus," Lewis said.
Construction started last year on the first phase of the career school's new, nearly $11 million Butler Tech Bioscience Center near the intersection of Cincinnati-Dayton Road and Interstate 75. The building, which will provide high school and adult education programs for dental assisting, exercise science, pharmacy technicians and other programs, is set to open in time for fall classes this year.
But the Bioscience Education Center is just the first of several facilities planned at the site, which can be seen from the highway.
Talks are underway to lure a private business tenant to the campus, said Bill Miller, Butler Tech superintendent/chief executive officer. If a deal is closed, construction could start still this year on a second office building to house the bioscience-related company.
"They picked this location (for the campus) because it's in the center of five hospitals and in the center of the bioscience community in this area," Miller said.
Long-term plans call for as many as five buildings at the West Chester Twp. Butler Tech campus, including more businesses. Although, the exact number of buildings will depend on the tenants that open.
So far, Butler Tech has invested a total of approximately $15 million in the property to buy the land and for construction, Pokora said.
Eventually, Miller envisions a "job-ready" campus where students can study in one building and walk to work at a building next door to apply their skills.
Career-technical schools already have close relationships with businesses through advisory committees for training programs and job placement efforts, Pokora said. Students are also encouraged to pursue higher education further after completing a certification program at Butler Tech.
The West Chester Twp. campus takes the public-private relationship further, he said. When academic buildings stand next to business places, company leaders can be guest lecturers at the school. Students can walk across the parking lot to see something they just learned in class put in action, he said.
"The real, real advantage on this site, the big vision here, is you bring all those components together in one place in real time," Pokora said.
Butler Tech owns 26 acres now and is working with the township to build a road, Capstone Boulevard, to the property off Cincinnati-Dayton Road. Another 140 acres of greenspace owned by one family neighboring Butler Tech's newest campus would be ideal for development of more bioscience companies and perhaps community colleges and four-year degree university branches in the future, Miller said.
"Companies in this arena tend to cluster together to benefit from shared workforce, advances in technology and new discoveries," said Barb Wilson, spokeswoman for the township.
Butler and Warren county businesses in the bioscience industry include: UC Physicians, Cincinnati Children's Liberty Campus, drug manufacturer AstraZeneca, medical device manufacturers AtriCure Inc. and DRT Medial — Morris, and personalized medicine company AssurexHealth.
Eight hospitals serve Butler County: Middletown's Atrium Medical Center, Fort Hamilton Hospital, Mercy Health — Fairfield Hospital, Oxford's McCullough-Hyde Memorial Hospital, Hamilton's TriHealth Bethesda Butler Hospital, West Chester Hospital, Cincinnati Children's Liberty Campus and West Chester's Beckett Springs Hospital.
Butler Tech is one of Ohio's largest career-technical schools based on enrollment. It has four campuses in Fairfield Twp., Hamilton, Monroe, and Liberty Twp. with enrollment of approximately 3,200 full- and part-time students including associate programs offered at 10 local school districts. The West Chester Twp. bioscience campus will be the fifth campus.
The school district receives funding from tuition fees and taxpayers.
When the first phase of the Butler Tech Bioscience Center opens later this year, consisting of approximately two-stories and 38,000-square-feet, secondary classes will be offered by day and adult education by night. The second phase will add another 12,000-square-feet of room on a third level for daytime adult classes, as well as office space planned for the West Chester-Liberty Chamber Alliance.
The Butler County Port Authority, which provides special financing for business projects, is working with Butler Tech to attract companies to the campus.
---
BY THE NUMBERS: BUTLER TECHNOLOGY AND CAREER DEVELOPMENT SCHOOLS
5 campuses in Hamilton, Monroe, and Fairfield, Liberty and West Chester townships;
3,200 full- and part-time students enrolled
$60 million annual budget, approximately
695 full- and part-time employees
SOURCE: Bill Solazzo, Butler Tech spokesman
http://www.journal-news.com/news/news/butler-tech-bioscience-campus-combines-classrooms-/nj6MG/