AdvancePierre Foods opens new research center in West Chester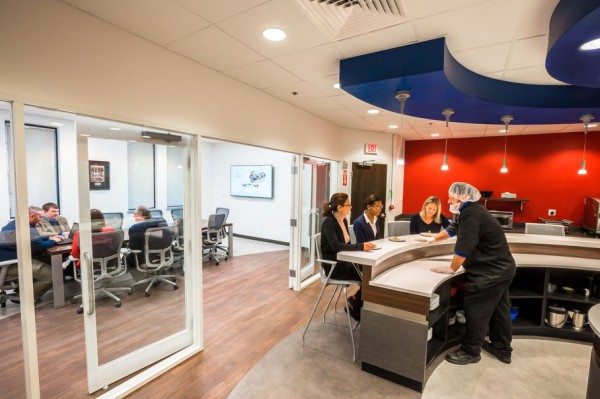 WEST CHESTER TWP. —
AdvancePierre Foods Inc., one of Butler County's largest businesses, has opened its new customer Innovation & Research Center at the company's facilities along Ohio 747, the food manufacturer announced Tuesday.
The center consists of laboratory space and meeting rooms meant to help develop products needed to grow the business, according to AdvancePierre.
AdvancePierre makes fully cooked beef, chicken and pork products and sandwiches that consumers buy at grocery stores, cafeterias and vending machines. It is also one of the largest suppliers of protein to school systems across the country.
Sales volume means AdvancePierre is the second largest privately-held company in the Tristate, according to the Deloitte Cincinnati USA top 100 list. Revenues last year reached about $1.6 billion.
Approximately 1,000 employees work in West Chester Twp., which is also the site of a major meat processing operation, company officials have previously said.
The opening of the research center traces back to a 2014 announcement. At that time, AdvancePierre announced plans to move its headquarters from West Chester to new office space in Blue Ash. Even though the township lost the corporate headquarters, the same growth plans also spelled out that West Chester would gain a support center to house various company-wide shared-services such as finance, information technology, supply chain management and engineering, as well as an expanded research and development test kitchen.
Fast-forward to now and the newly-opened research center houses a sandwich and bakery lab; meat lab; processing lab; customer kitchen with adjoining conference room; additional meeting spaces; walk-in pantries, coolers and freezers; and a receiving room. Additionally, there is a sensory lab where internally screened testers evaluate products to ensure foods deliver the desired taste and eating experience, according to AdvancePierre.
The labs use equipment such as home and commercial microwave ovens, steam-heating ovens, turbo chef-style ovens, convection ovens, grills and fryers to mirror how customers and consumers prepare products.
"Customer satisfaction goes far beyond great-tasting products," said Bernie Panchot, AdvancePierre's senior vice president of research and development, in a written statement.
"It's about trend-forward thinking, responsiveness, cost management, speed to market and consistency. It's about identifying opportunities and solving the problems customers face, whether in a food service operator's kitchen or in a grocery or convenience store setting," Panchot said. "Heightened customer intimacy and collaboration empower us to detect these opportunities and to better solve these problems, ultimately, delivering an experience our customers will crave."
http://www.journal-news.com/news/business/advancepierre-foods-opens-new-research-center-in-w/npkp9/